HP Thin Client T610 (Hardware)
Before the lockdown of Metro Manila, I managed to purchase a second hand thin client for Php 1600 (USD $32), it included a power adapter, DVI-to-VGA adapter and the unit itself. But it did not come with a flash storage, the seller has included an HDD bracket (made with thick paper cardboard, but without screws) to help me fit an HDD/SSD easier.
Here are the original specifications of the Thin Client that I got:
| Hardware | Specifications |
| --- | --- |
| CPU | AMD G-T56N (2) @ 1.650GHz |
| GPU | AMD ATI Radeon HD 6320 |
| RAM | 2GB 1Rx8 PC3-12800S DDR3 Hynix |
| Storage | 2x SATA, 1x IDE DOM (No storage device included) |
| Peripherals | 1x DVI, 1x DisplayPort, 2x USB 3.0, 4x USB 2.0 (2 back, 2 front), 1x Serial port, 1x PS/2 Mouse, 1x PS/2 Keyboard, DC Jack 19.5V (Proprietary HP), 1x Kensington Lock slot, Gigabit Ethernet (10/100/1000), miniPCIe slot, PCI-e slot |
I'm not gonna list all the feature of this thin client, there is a site dedicated for that, visit https://www.parkytowers.me.uk/thin/hp/t610/
System Info (BIOS)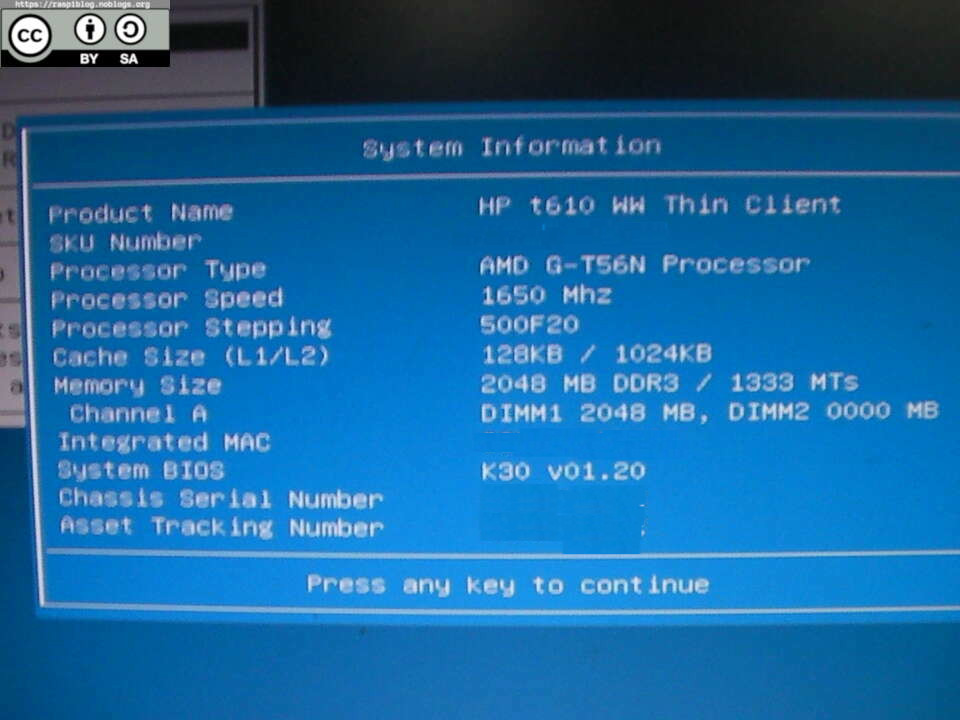 The plan is to upgrade the RAM, add an HDD and WiFi Card.
The stock hardware internals: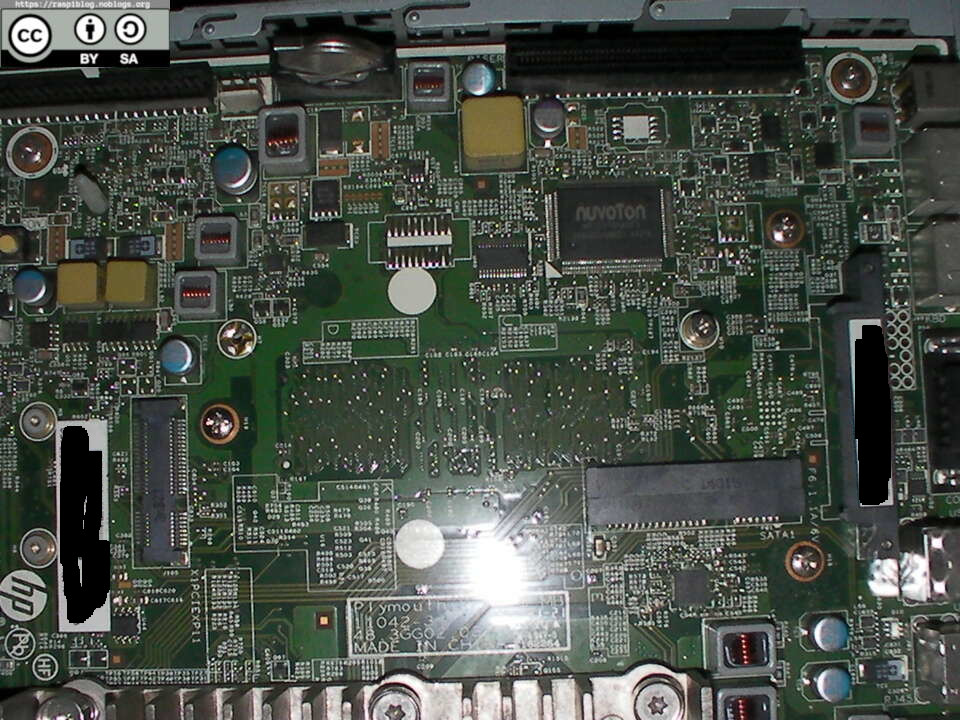 For the RAM upgrade, I used my spare 2GB RAM that was used to be in my Thinkpad X200T. I was not sure whether it will work for this unit but it did. The RAM that I used is a Samsung 1Rx8 2GB DDR3 PC3-10600S.
BIOS Warning Message about non matching memory from the last boot up. It is not an error but just a notification that the Memory has changed.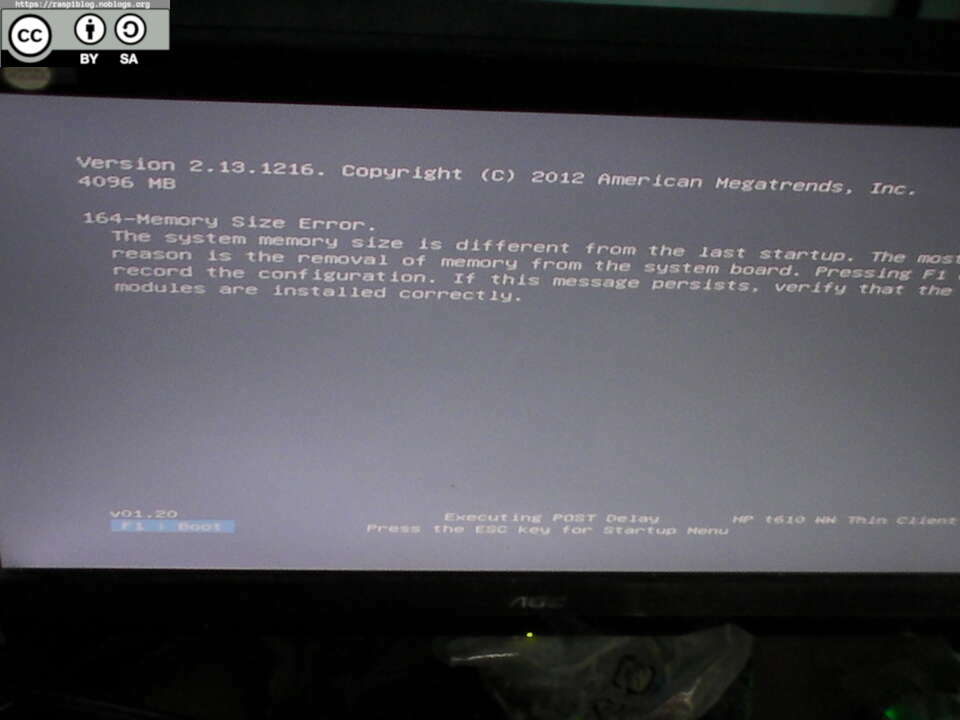 Initially, I did not used the included cardboard HDD bracket but I used cable ties for securing the HDD.
The HDD that I used is a 5400 rpm Hitachi 250GB, Windows 10 was installed to this drive and I used it for benchmarking games (demo can be found on my Youtube channel/Peertube channel).
But I changed the HDD again and I don't want to cut the cable ties everytime.
This HDD has the Debian 10, the configuration is the same as in my Raspberry Pi as a Server (NAS, Samba, NFS, Pi-hole and others).
It is a WD Blue 500GB, I want to try the WD Red (2.5") but I don't have the resources to acquire one and all I can find is the 3.5" version.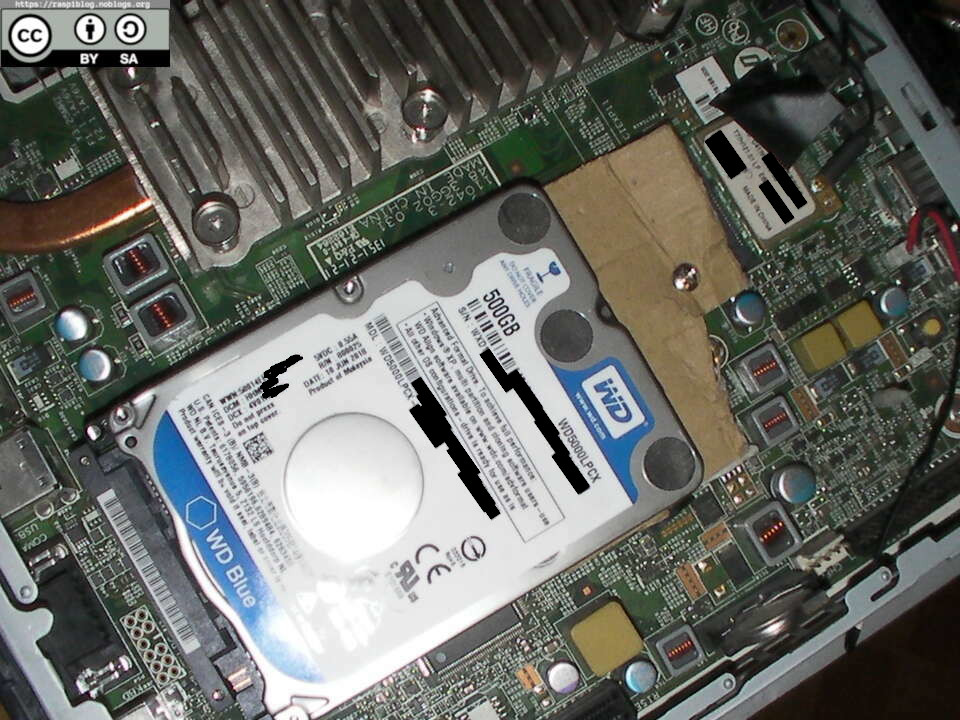 While adding a WLAN card to the miniPCIe slot, I had problem with the screw. I don't have a matching screw size for the miniPCIe slot.
My miniPCIe WIFI from a laptop and antennas: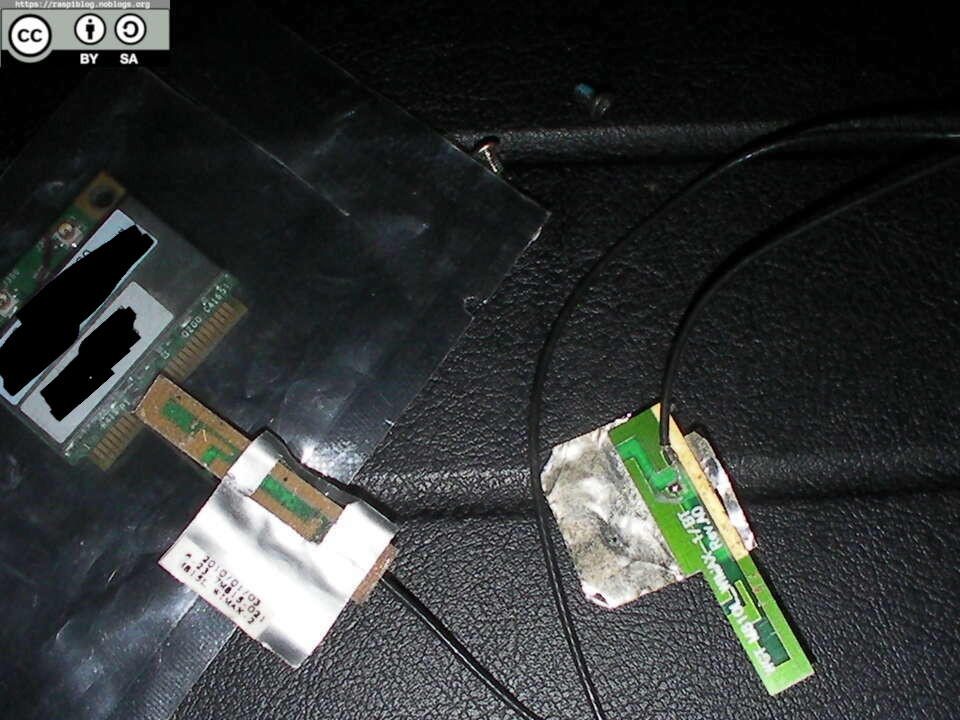 Inserted the WiFi Card: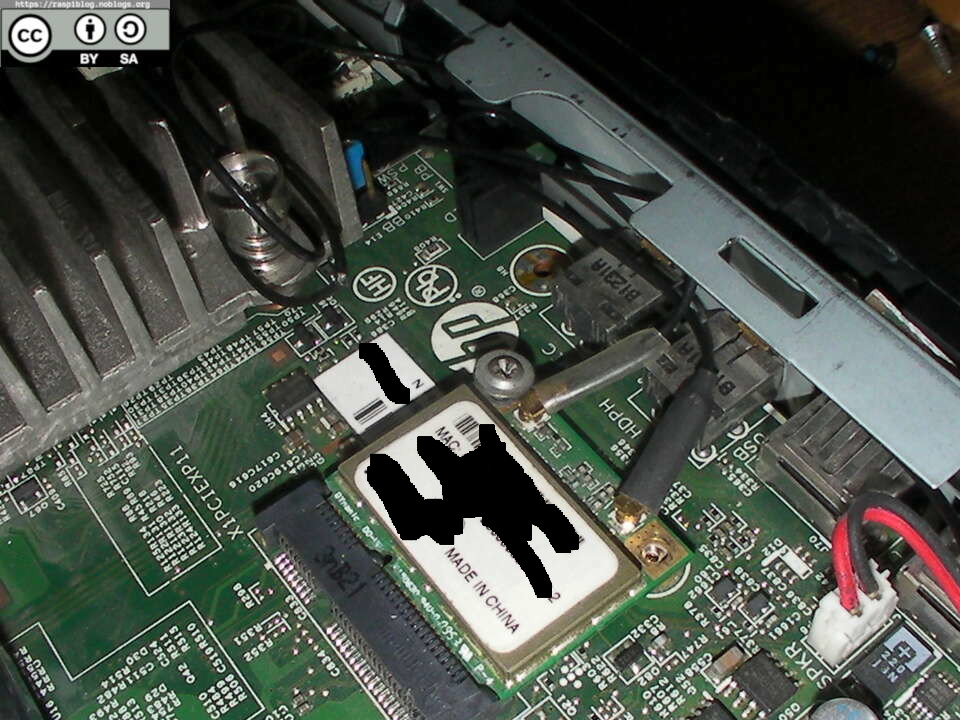 A good alternative to screws (not recommended!):
The board has another SATA Pin for plugging in an DOM Storage, but if you don't have a DOM storage like I do, you need a SATA extension to be able to use an laptop HDD/SSD. But the other problem is mounting the HDD/SSD, the board seems to have only one screw to mount an HDD/SSD.
You can buy your own SATA extension cable, but since everything is on lockdown shops are closed. We can built our SATA power cable from a broken PC ATX power supply unit. For the SATA data cable, my old DVD Drive has a free SATA cable included, so I have that.
Oops, you actually need a male to female SATA power connector.
Cooling the unit:
I have a 120mm RGB LED 12V Fan that is cooling my Raspberry Pi 3B+ server but upon the arrival of this Thin Client, I ditched my Pi for this unit. I still have problems about power interruptions, I don't have an Uninterruptible Power Supply for the unit. I made a DIY UPS for my Pi (an article and demo is TBD). I hope I can do a DIY UPS for this unit too but I don't have a good quality DC boost converter and an extra barrel connector for the charging socket, and everything is on lockdown.
My room does not have an AC, my room temperature can reach up to 38 degrees Celsius on a hot summer day. You can check my room temperature by visiting my Mastodon bot account at (https://botsin.space/@R1BNCbot), it is updated every hour. I found out that this Thin Client without active cooling and while doing some number crunching, its temperature reaches up to around 78 degrees Celsius and the HDD temperature reached to 64 degrees Celsius. (See: https://botsin.space/@R1BNCbot/103903633387148686)
To cool this thing down without much noise, I used my 120mm RGB LED 12V Fan it can be powered by 5V USB but the LEDs does not light up. I just used the Pi's power supply converted to 12V to run that fan.
I have an old box of a laptop cooling pad, which almost fits to the thin client.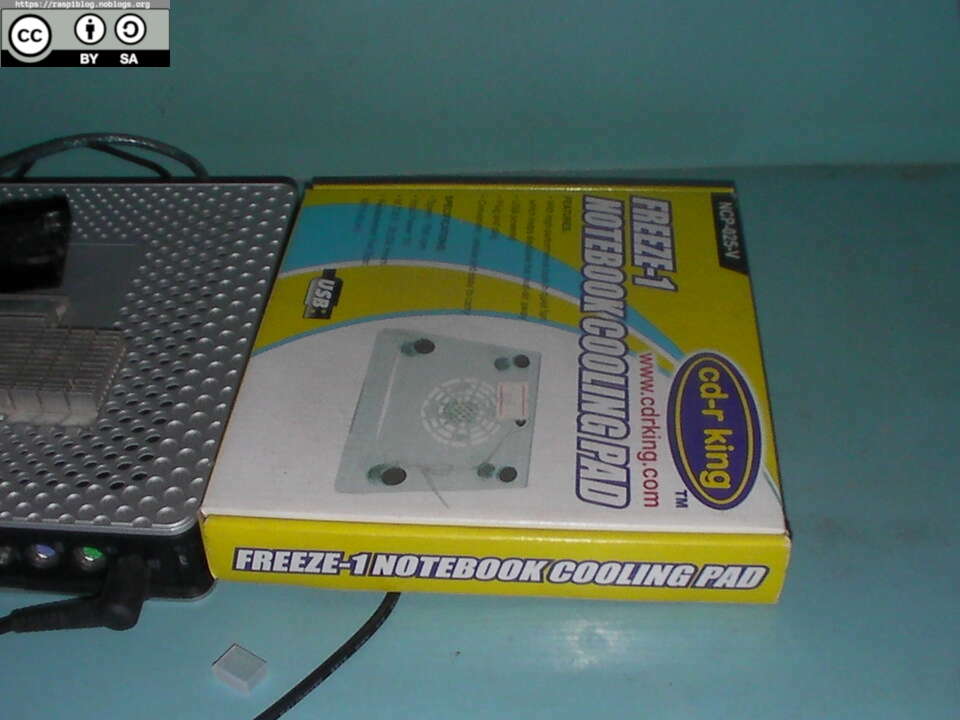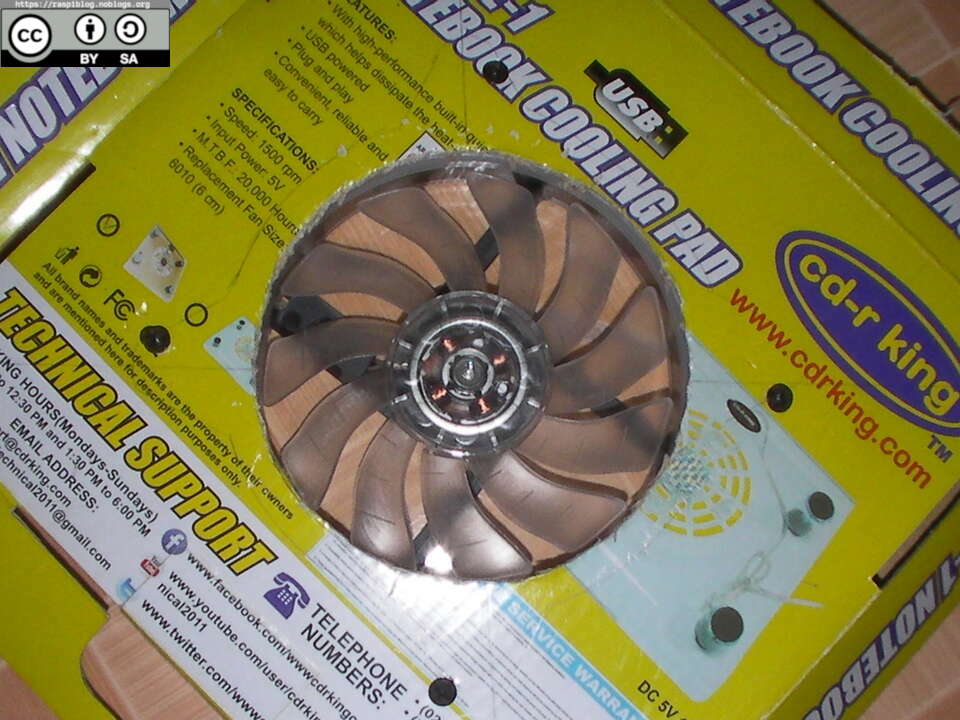 The final product, the air is being sucked from the thin client. It is effective, the temperature is now below 60 degrees celsius and the HDD temperature is below 50 degrees Celsius.
Future Hardware Upgrades:
Max out the RAM to 16GB
1 IDE socket = Add additional HDD (for a RAID 1 Configuration) (IDE to SATA converter)
1 SATA Socket = Try to tear down an SSD and fit the board inside the thin client or use a SATA extension cable
DIY SATA Extension with SATA POWER
Video for this article (choose one source):
HP Thin Client T610 Youtube
HP Thin Client T610 Peertube 1 Mirror
HP Thin Client T610 Peertube 2 Mirror
For more information on hp t610, visit: https://www.parkytowers.me.uk/thin/hp/t610/